Roll over image to zoom in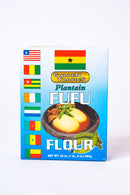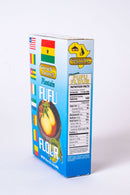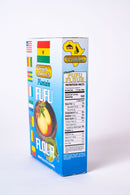 Description
Golden Tropics Plantain Fufu
A traditional staple of African cuisine, fufu flour is ground from plantain and cassava (the starchy tuber from which tapioca is derived). Golden Tropics Plantain Fufu is uniquely formulated to give you the flexibility and the ease needed to produce a delicious meal. 
Benefits
Plantain Fufu is a low fat instant meal which is quick and easy to prepare.

Provides a healthy and stable source of energy and 5 grams of protein per serving.
History, social and cultural relevance
Fufu, also spelled foofoo, a popular dish in western and central African countries and, due to African migration, in the Caribbean as well. The dish reportedly originated in Ghana, where it's a staple. It is prepared in various ways. In Sierra Leone, for example, fufu is often made with fermented cassava.
Fufu is a generic name for food you swallow during the eating process. Fufu recipes are generally tasteless on their own so they rely on the richness of the soups to make the meal delicious. Tastes no different from pounded fufu but preparation is not a hassle.
Product of Ghana
Payment & Security
Your payment information is processed securely. We do not store credit card details nor have access to your credit card information.