Roll over image to zoom in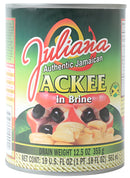 Description
Juliana Authentic Jamaican Ackee In Brine
Juliana Ackee is the symbol of Jamaica's food identity, with roots from the Motherland. Ackee's origin is traced back to West Africa, but mentioned the world over.  A staple in the island's national dish, of Ackee and Codfish.

This nutritious fruit is packed with B vitamins, protein and good fats. When cooked, it bears a resemblance to scrambled eggs, but the taste is so much better!

Weight: 19 oz.
Payment & Security
Your payment information is processed securely. We do not store credit card details nor have access to your credit card information.